TUDFlow3d is een volledig driedimensionale CFD (computational fluid dynamics) solver die turbulente stroming kan simuleren op een engineering schaal. De Large Eddy Simulation benadering wordt gebruikt om de invloed van de turbulentie vast te leggen; vandaar dat de belangrijkste grotere eddies worden opgelost in plaats van gemodelleerd zoals in RANS. Dichtheidsstromen kunnen worden opgelost, bijvoorbeeld warm / koud waterafvoer, zoutgehalte, sedimentvervoer.
TUDFlow3d is gebaseerd op een numerieke code van de TU Delft en verder ontwikkeld om toepasbaar te zijn op engineering schaal bij Svašek Hydraulics. Het maakt gebruik van een snelle solver op gestructureerde roosters en loopt parallel door MPI. Typische rekentijden zijn in de orde grootte van 1 dag voor zeer gedetailleerde berekeningen met 1 tot 50 miljoen gridcellen.
Voor details over TUDflow3d zie: (2015) De Wit, L. 3D CFD modelling of overflow dredging plumes. Ph.D. Thesis, Delft University of Technology, Delft.
TUDFlow3d is succesvol toegepast voor:
Lozing van sediment pluimen door een varend baggerschip inclusief de interactie met de scheepsschroeven en de zeebodem;
Turbulente kanaal stroming;
Turbulente stroming langs objecten;
Gestratificeerde turbulente stroming;
Dichtheidsstroming;
Transport van gesuspendeerd materiaal voor cohesief en non cohesief sediment, turbiditeitsstroming;
Transport van tracers.
Enkele voorbeelden van publicaties met TUDflow3d zijn: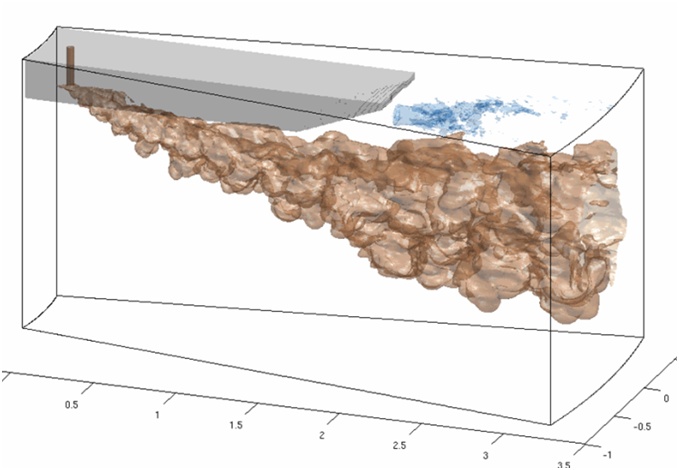 ONTWIKKELAARS
Svašek Hydraulics
TU Delft
HOOFDKENMERKEN
3D turbulente stroming
sediment transport
dichtheidstromen (warm/koud, saliniteit, sediment)
large Eddy Simulation