Monitoring silt dispersion during reclamation works IJburg 2
Ontwikkelingsbedrijf Amsterdam is developing the land reclamation project IJburg 2. The land reclamation starts in wet conditions. During the first stage, under wet conditions, sand is put in place by a sand squirt pontoon. Silt curtains are used to prevent silt from being transported to the surrounding area. The reason is the presence of zebra mussels (driehoeksmosselen) around IJburg 2 which cannot handle too much siltation.
Svašek Hydraulics is asked to monitor the siltation around the reclamation of the first part of IJburg 2. Key question is: how effective is a silt curtain?
Before, during and after the half year construction phase the sedimentation of silt is monitored in a grid of measurement locations around the reclamation. The demand was to monitor the sedimentation caused by the land reclamation with an accuracy of 1 mm.
In order to satisfy this very challenging accuracy a tailor made silt sedimentation measure device has been designed for this project. Several laboratory and in-situ tests has been undertaken to optimise and validate the measurement method. Also optical OBS turbidity measurements are taken to gather extra information about the silt dispersion around the land reclamation area. Preparations started in 2009 and the actual monitoring takes place first half of 2010.
© Photo IBA.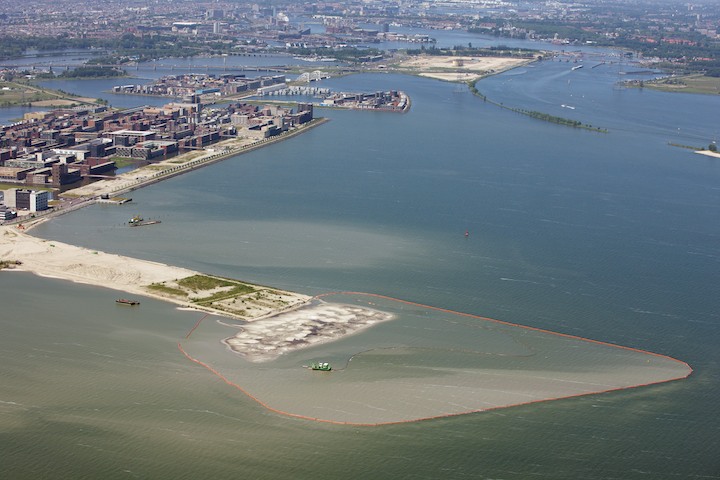 CLIENT
Ontwikkelingsbedrijf Amsterdam
LOCATION
IJburg, near Amsterdam (the
Netherlands)
DATE
2009 – 2010
SERVICES
Half year measurement
campaign